Remember, Avoid Bargains
When Purchasing: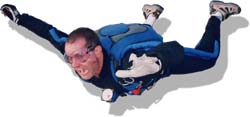 Parachutes
Scuba gear
Laser eye surgery
Compare Apples to Apples
The cost of vision correction depends on the procedure that's best for you, such as LASIK or "Custom" LASIK. The cost also varies on the physician's experience. More experienced surgeons may charge a higher fee.
The cost also depends on what's included in the vision correction package. Many doctors include pre-operative and post-operative care, as well as one-year to lifetime warranties. So, when shopping around, make sure you're comparing apples to apples. On average, in the U.S., the cost for LASIK surgery is $2,000 per eye.

When you shop around, you'll find that there are doctors who charge less...and there are doctors who charge more. Although it's natural that you want to get the best price...remember, you also have to think about quality and service.
After all, this is a procedure you'll likely have only once in your lifetime, and your vision is one of your most precious assets.